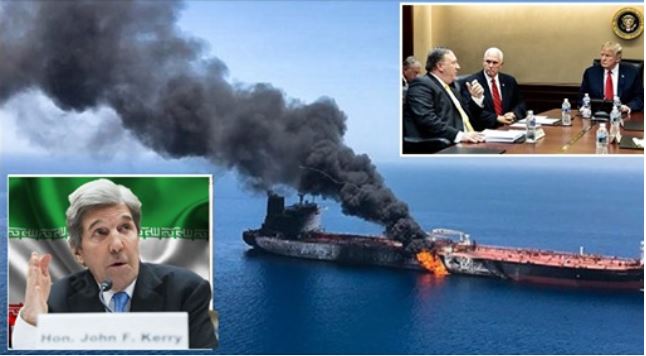 Treason? Is Former Secretary Of State John Kerry Advising Iran Against US & Trump On Current Hostilities In The Straits Of Hormuz? [Opinion]
POSTED BY: DEAN JAMES JULY 20, 2019
Posted by Dean James at Right Wing Tribune
Treason? Is Former Secretary of State John Kerry Advising Iran Against US & Trump On Current Hostilities in the Straits of Hormuz? [Opinion]
Remember back to last year. On multiple occasions it could be said that Obama's former Secretary of State, John Kerry was "colluding" (meeting) with the world's leading funder of state-sponsored terrorism, Iran.
Democrats have spent three years expressing outrage over claims of collusion with a foreign power to undermine our democracy.
Not so much when its a member of the Big Club.
In May of 2018, Kerry was outed for engaging in multiple secret meetings with Iran's foreign minister to strategize over how to undermine President Trump's plans to withdraw from the Iran nuclear deal.
By mid-September, Kerry blatantly admitted he was serving as an agent for a hostile foreign power:
Former Secretary of State John Kerry admitted Wednesday that he's met with top Iranian officials in hopes of salvaging the scrapped nuclear deal — as he slammed the Trump administration for trying to further "isolate" Iran.
The one-time presidential candidate said he's sat down with Iranian Foreign Minister Javad Zarif "three or four times" in places including Norway and Munich since leaving office last year.
As evidence of these ongoing meetings mounted, it became clear that Kerry was intent on undermining President Trump's policies with regard to Iran.
Remember too, Obama's plan for a strategic alliance with Iran throughout the Middle East and North Africa that had been in the works since he was candidate Obama.
For leftists, the struggle never ends.
No former president had ever assembled an army of more than 30,000 agitators to fight his successor at every turn of their presidency. Until Obama did. And no president remained in Washington to cast a shadow over his successor. Until Obama.
Now consider Iran's recent aggression towards Western interests in the Straits of Hormuz.
Here's Secretary of State Mike Pompeo expressing his anger towards Kerry's meddling with Iran in September of 2018:
In May of this year Trump told reporters at the White House that Kerry's actions were "a violation of the Logan Act and frankly he should be prosecuted on that, but my people don't want to do anything on that."
Has the reluctance to prosecute Kerry emboldened him?
All of this raises the likelihood of a direct connection between former President Obama and former Secretary of State Kerry and the current spate of Iranian hostilities.
Keep in mind that Deep State overlords consider Donald Trump an existential threat. Most of us would like to know what he's a threat to aside from preventing the further diminishment of America and the continued exfiltration of the wealth of America's workers.
Still, Deep State approved Joe Biden was the most recent figure to invoke the "existential threat' label on Trump
Biden, aka the dumbest man in Washington, is only where he's at right now because he aligns with both the Never Trump neocons and the Obama/Kerry wing of the same globalist cabal, all of whom are united in wanting to remove Trump.
President Trump has been consistent about the folly of past Mid-East wars for more than three decades: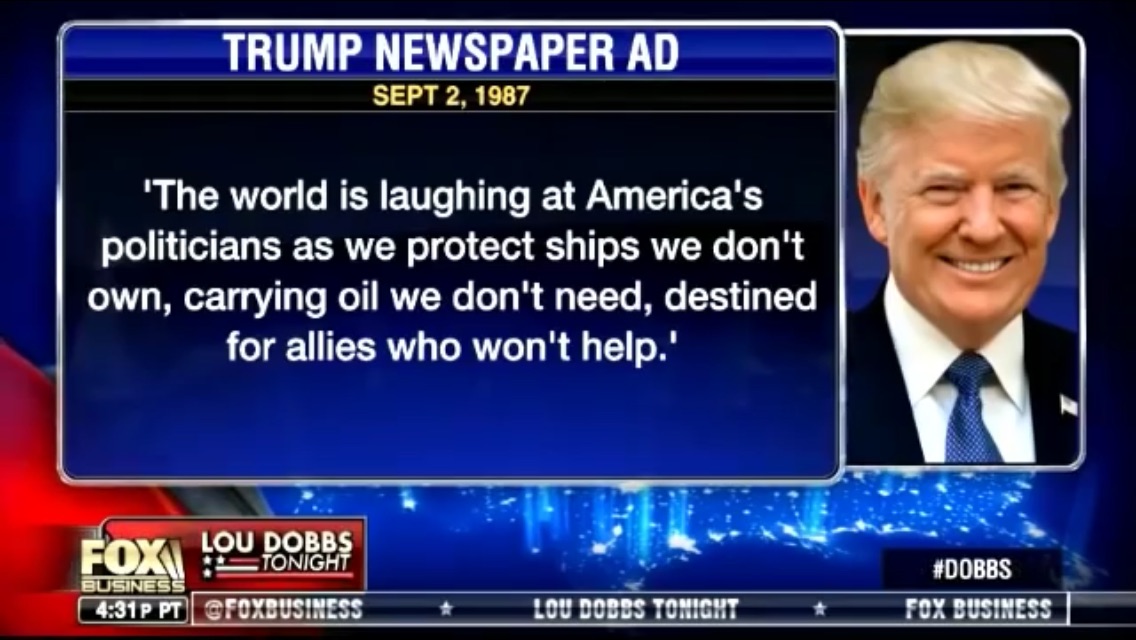 Does the Obama/Kerry/Iran alignment view this as Trump's Achilles heel? Forcing Trump's hand towards war in the Middle East would likely be one strategy they'd employ to damage his chances of being re-elected in 2020.
Predictably, the media wants to investigate Trump for the fifth time.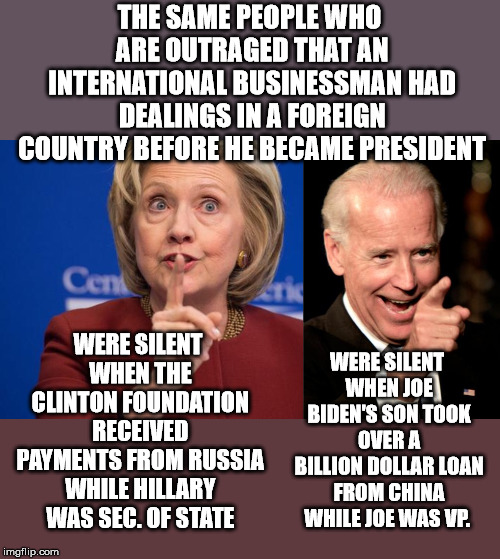 Join us at SPREELY if you want REAL NEWS without the leftist censorship!
Dean James at Right Wing Tribune
God Bless.
Please take a moment and consider sharing this article with your friends and family. Thank you, we appreciate it!
FACEBOOK HAS