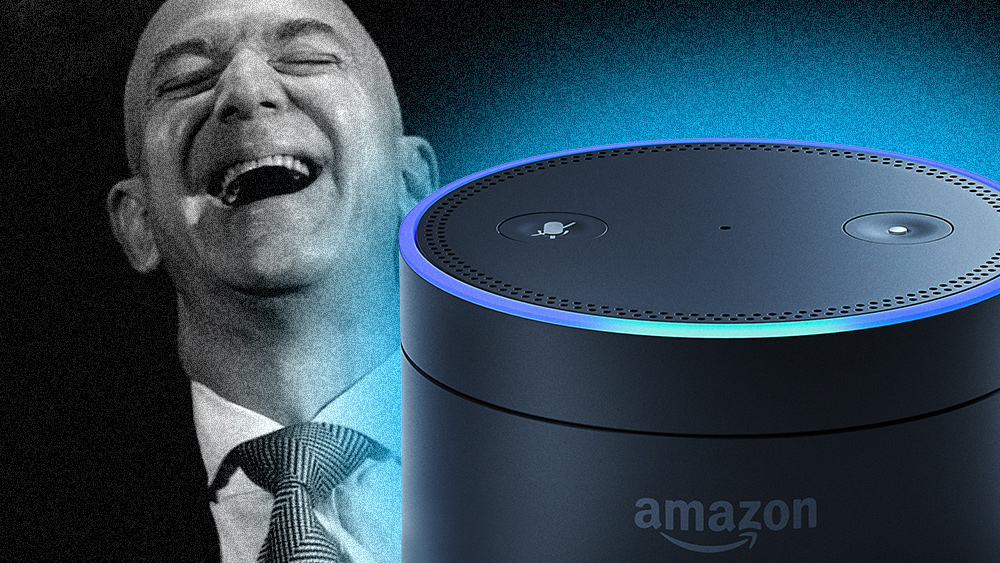 Amazon employees not only listen to your private conversations captured by Alexa; they also know your home address
05/01/2019 / By Ethan Huff
https://www.newstarget.com/2019-05-01-amazon-employees-listen-to-your-private-conversations-captured-by-alexa.html
Not long after it was confirmed that Amazon employees have been secretly listening to the user commands given to its artificial intelligence (AI) "Alexa" devices, without the knowledge or permission of these users, new reports have come out to show that Amazon employees are also abusing Alexa users' location data, giving themselves illicit access to customers' home addresses.
At least five supposedly former Amazon employees recently came forward as whistleblowers to admit that Amazon maintains a covert "Alexa team" of employees, the job of whom is to transcribe, annotate, and analyze the voice recordings captured by Alexa spy devices. This Alexa team is reportedly comprised of employees spanning three different continents.
Since Alexa apparently doesn't always understand what users are saying or implying, the purpose of this Alexa team is "to help Amazon's digital voice assistant get better at understanding and responding to commands," these five individuals claim. But along with this comes secret access to Alexa users' geographic coordinates, which can easily be plugged into third-party mapping software to identify people's locations.
Amazon had never intended for the truth about this secret spying program to become public, as the company forced employees who knew about it to sign non-disclosure agreements barring them from discussing it publicly. But they were apparently comfortable speaking anonymously and off the record to Bloomberg, which was the first to blow the lid on it.
"Anytime someone is collecting where you are, that means it could go to someone else who could find you when you don't want to be found," says Lindsey Barrett, a staff attorney and teaching fellow at Georgetown Law's Communications and Technology Clinic.
Sponsored solution from the Health Ranger Store: Lab-verified Nascent Iodine solution is a dietary supplement that provides your body with supplemental iodine to help protect your thyroid during radiation exposure. Nuclear accidents such as Fukushima (or nuclear war) can expose your body to radioactive iodine-131, a dangerous radioisotope. Pre-loading your system with stable iodine occupies the iodine receptor sites on your organs, causing your body to naturally expel radioactive iodine you may have been exposed to through air, food, water or milk products. This defensive strategy is recommended by nearly all health authorities, worldwide, including the Nuclear Regulatory Commission. Discover more at this link.
According to Barrett, location data is far more sensitive than most other categories of user information. And the fact that it can potentially be retrieved alongside Alexa user recordings sets up "a big red flag" for Barrett, especially since Amazon has already been caught lying about its technology's spying capabilities.
For more related news, be sure to check out Surveillance.news.
Just prior to this spying program being exposed, Amazon lied in an official statement, claiming its employees do not have "direct access" to Alexa users' location data
One of Amazon's lies was proclaimed on April 10, when the company issued an official statement claiming that members of its Alexa auditing program "do not have direct access to information that can identify the person or account as part of this workflow."
But this claim has since been disproven as false, and Amazon has also since issued a more recent conflicting statement claiming that "access to internal tools is highly controlled" – meaning that at least some Amazon employees do have access to private information linking Alexa recordings to specific users and those users' locations, which could potentially be used for blackmail purposes.
According to Amazon, employee access to these internal tools "is only granted to a limited number of employees who require these tools to train and improve the service by processing an extremely small sample of interactions."
"Our policies strictly prohibit employee access to or use of customer data for any other reason, and we have a zero tolerance policy for abuse of our systems. We regularly audit employee access to internal tools and limit access whenever and wherever possible," the company has further claimed.
It has also since come out that Amazon's covert Alexa team isn't just a few employees, but rather thousands spread all across the world. News of this appears to have prompted Amazons CEO Jeff Bezos to further restrict the level of access that Amazon employees have to the system – "perhaps anticipating a fresh Congressional kangaroo court where Jeff Bezos is grilled to explain why Amazon is the new NSA," to quote ZeroHedge.com.
Sources for this article include:
ZeroHedge.com
NaturalNews.com