ENTER AT YOUR OWN RISK!
The following is the last communication I have directed to Lowe's Home Improvement. Mad as hell and ain't gonna take it anymore!!!
I have been dealing with someone named Diana in trying to help me get through the problems that we have had concerning the wading pool,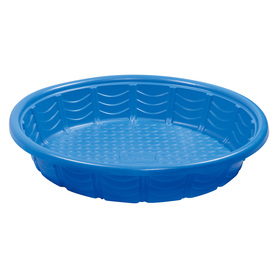 Diana said that I could call her back at 1-866-284-3989, ext: 6587227.
She called me this morning and said that the she had been talking with the manager out here at the location where I went to pick up the pool, Lilburn, GA, and that the manager is sure that she brought out a 45″ pool. Amazingly, I had taken a picture of the pool I purchased from Handy Ace Tucker, which is 11.5″ x 45″. The pool delivered to my home from Lowe's was 36″ x 7.5″. I was asked how I know the difference in the pool size from the one Lowe's brought to my home, and the one from Ace. That is insulting as hell, I had already sent pictures to BBB showing the difference, and the other way, I know how to take a measurement, and I had measured the pool. Like DDDuuuhhhh!
For Lilburn Lowe's to continue lying is unconscionable at best. I am a legal assistant, not some idiot from the back woods.
James and I have discussed the matter, and I tell you what, Home Depot is right down the street from Lowe's. I have spent a ton of money with Lowe's remodeling a 75 year old home, and am still remodeling the home. Lowe's can come get their damned pool, and credit my account. We won't be coming to Lowe's any more, and once I post this information on my 7 different blogs at WordPress, I will be so kind as to send you a link to each blog post.
I don't appreciate being questioned, like I did something wrong. Lowe's has lost a good paying customer of many years. We won't be back!!!
I will be putting this information on BBB as well. Yall should have taken the time to look at the pictures I uploaded to BBB before acting like James and I did something wrong. The only thing we ever did wrong, was come to Lowe's. The reverse discrimination is horrible already, but then, for this manager to continue to lie about this whole ordeal has gotten old, she should not be working in a store where white people go.
In fact, the day we were there, we also purchased 12 – 50 pound bags of sand. James is 70 years old and there were three young, African American males working for Lowe's who stood there, doing nothing, except watching this old man, load 12 – 50 # bags of sand into our truck, in 90+ degree weather. That made me mad by itself, but he said to let it go. Now Lowe's had acted like it is an act of congress to try to make us happy, then again call us liars about the size of this damned stupid wading pool for my dogs.
Lowe's don't care about your customers, and accept the lies of a manager who obviously don't like white people, so Bye- Bye. Make arrangements to get your pool, and I want a refund asap. Even Diana lied to me about how to contact her back. No one at Lowe's can tell the truth!