Here is one opinion on what is happening:
Hillary's Chinagate: gave China the Right to Foreclose on US homes?
(or just take them, with weapons: bio and other, like DEW)?
US Gives China Eminent Domain Over US Property
Beyond High Treason A. True Ott, PhD, ND
https://rense.com/general85/give.htm
Dot #7 December 2005: The Chinese Defense Minister, Chi Haotiaon delivers a speech to the Chinese military leaders outlining the inevitable "expansion" of China into Canada, the U.S., and Australia — He justifies this because of Chinese racial "superiority" and thus "emminent domain".
To accomplish this, American would first have to be "Cleansed" by means of a powerful "biological weapon" — causing 150 -200 MILLION AMERICAN DEATHS!!!
Dot #8 March 13, 2008: A secret meeting is conducted for the U.S. House and Senate.
Agents of the Club of Rome give a preview of upcoming events to elected officials who first swear an oath of secrecy.
The traitors are briefed that the economy will begin its collapse in October, 2008.
Congress was told of the real possibility of massive civil unrest and even Civil War being waged.
Detention camps constructed to imprison civil 'agitators'.
See http://www.afterdowningstreet.org/node/34877 for the complete meeting agenda.
Dot #13 China agrees to continue investing in U.S. Treasury Bills only after securing the right of "eminent domain" to physically repossess foreclosed American PRIVATE PROPERTY. This move is the equivalent of an unconditional surrender following a bloody war.
This also gives the Chinese military the LEGAL RIGHT to use biological weaponry to "Clean up America all at once".
It gives them the legal right to use deadly force in removing trespassing Americans from occupying Chinese real estate.
——– Forwarded Message ——–
Subject: SoCal Fire started on Santa Susana Nuclear Test Site, then DEW?
Breaking: Source of Malibu Fire
Contaminated Santa Susana Nuke Facility,
Site of Secret 1959 Meltdown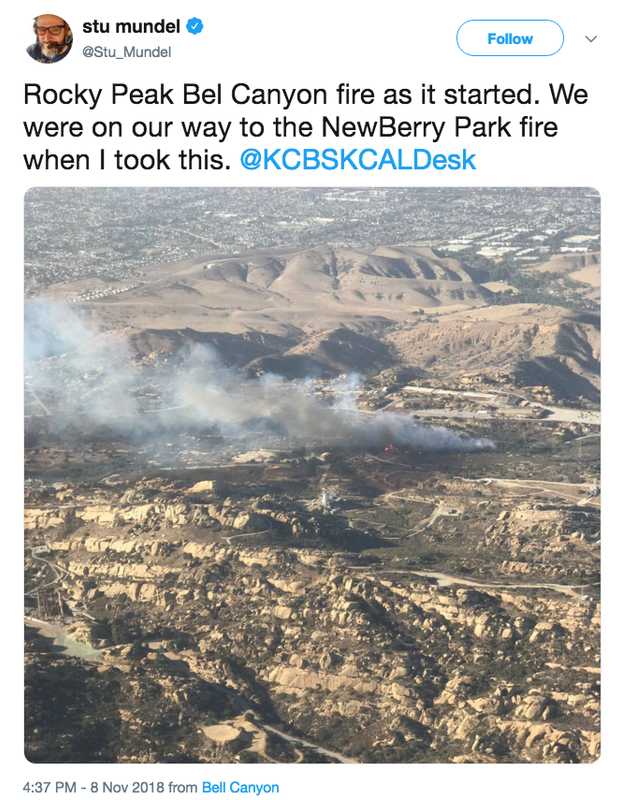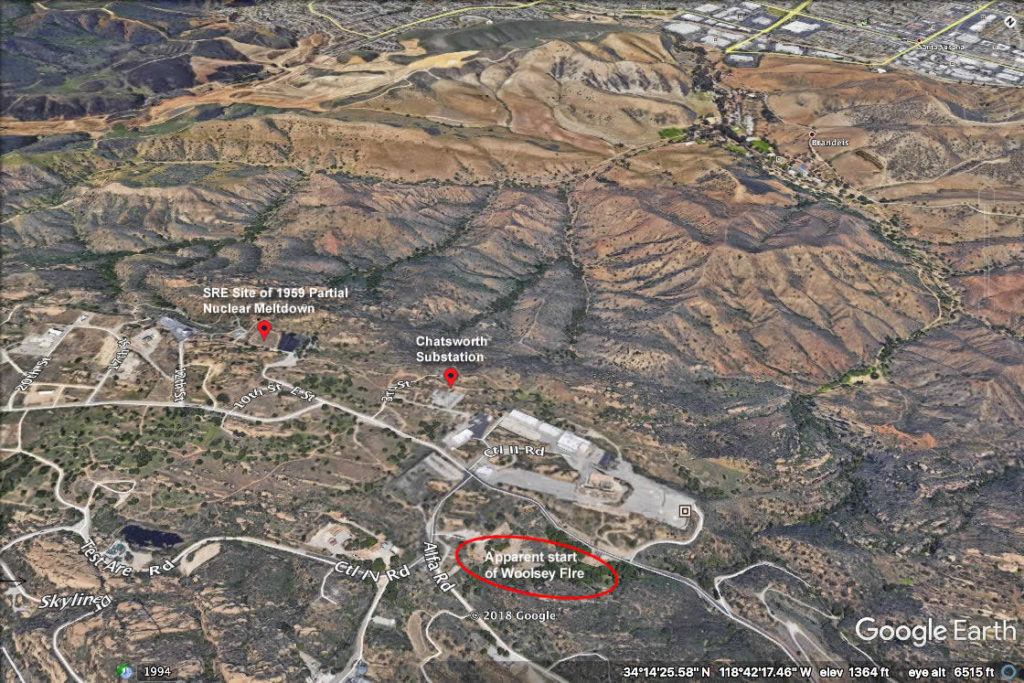 Pictures show that SoCal Woolsey Fire started on Santa Susana Nuclear Test Site

San Onofre ex-NuclearPowerPlant and Santa Susana Nuclear Test Site both Toxic
(But they don't want to talk about it)
https://www.rt.com/usa/444089-california-nuclear-san-onofre/
Babiarz believes the San Onofre plant is a ticking time bomb.
"It's still very prevalent to me that this not only could happen, but it has happened at Three Mile Island, of course it has happened at Chernobyl,
it's happened at Fukushima — and lest we forget, it could happen at San Onofre," she said.
A report filed with the California Public Utilities Commission by Southern California. Edison states that the "Chatsworth substation" suffered an outage at 2:22 pm Thursday, two minutes before the Woolsey fire is reported to have begun. The Chatsworth substation is located "within the larger Boeing Rocketdyne Santa Susana complex," according to a CPUC document (see bottom of page C-15 or page 17 of the pdf.) The electrical substation (marked with a pin in the photo above and a circle in the photos below, and enlarged in the last photo) is a few hundred yards to the west of where the fire is shown in the Thursday aerial photo as starting, and a few hundred yards to the east of the SRE complex, where the reactor suffered its accident. The substation had been built in part to provide electricity from the reactor, which was the first reactor to produce commercial electricity for the commercial grid, before it became the first such commercial reactor to suffer a partial meltdown.
Chatsworth substation, between apparent site of start of fire to the right and location of SRE reactor partial meltdown to the left.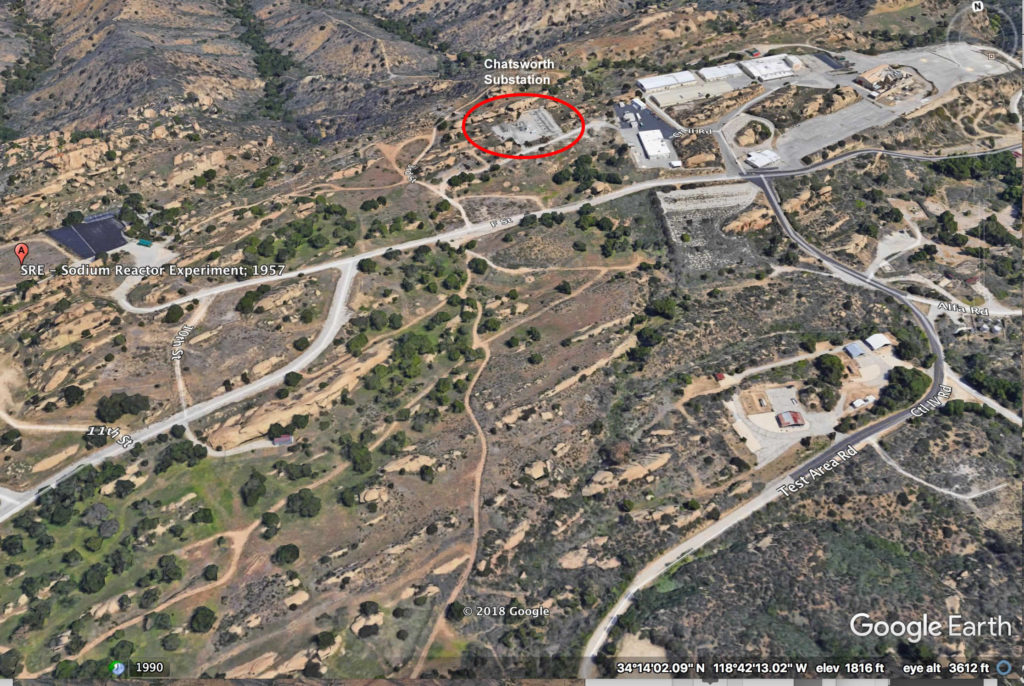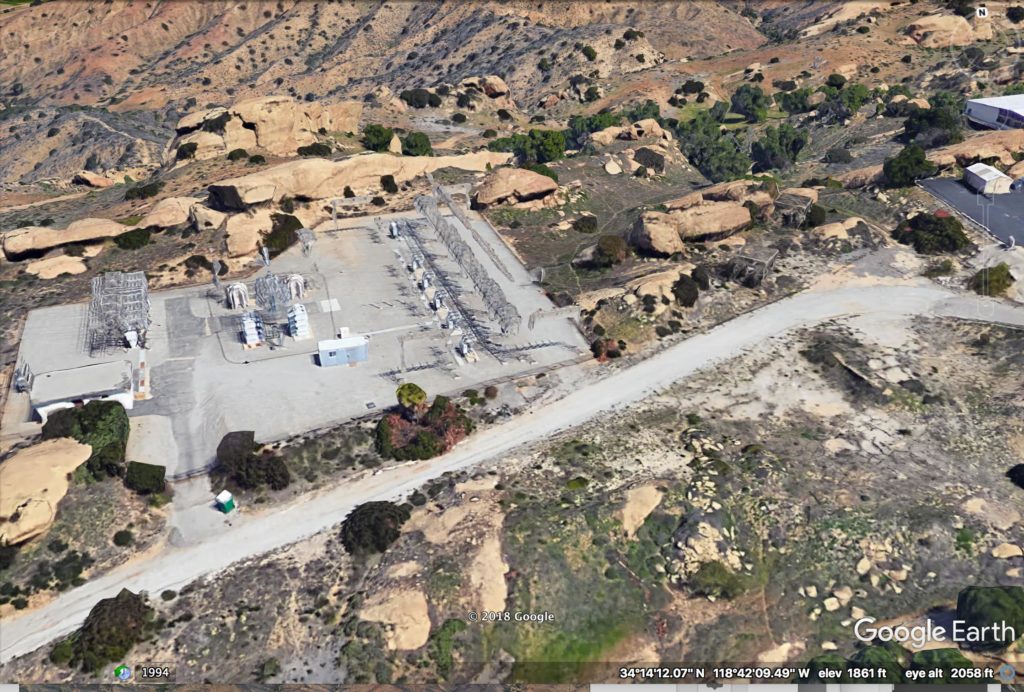 Close-up image of Chatsworth substation, just east of SRE partial meltdown site.
"Though we must wait for fire authorities to conclude their investigation, it is ironic that an electrical substation built for a reactor that melted down six decades ago now may now be associated with a catastrophic fire that began on the SSFL site that is still badly contaminated from that accident and numerous other spills and releases," said Denise Duffield, Associate Director of Physicians for Social Responsibility-Los Angeles (PSR-LA.)
Cal Fire maps indicate that much of SSFL is within the fire boundaries.
Decades of nuclear and rocket-engine testing activity, including nuclear reactor accidents and other toxic spills and releases, have resulted in widespread contamination throughout SSFL's 2,850 acre facility. Federally-funded studies indicate higher cancer incidents associated with proximity to the site. The California Dept. of Toxic Substances Control (DTSC), which has regulatory oversight over the parties responsible for cleaning up the contamination – the Dept. of Energy, NASA, and the Boeing Company – signed legally binding agreements to fully cleanup the contamination by 2017. However, the cleanup has not even begun and DTSC is considering vastly weaker cleanup plans. "If DTSC and those responsible for polluting SSFL had not broken their cleanup commitments, we wouldn't be facing the prospect of contamination now being driven off site by the fire," said Duffield..
"The Woolsey Fire likely released and spread radiological and chemical contamination that was in SSFL's soil and vegetation via smoke and ash," said Dr. Bob Dodge, President of Physicians for Social Responsibility-Los Angeles. "All wildfire smoke can be hazardous to health, but if SSFL had been cleaned up long ago as DTSC promised, we'd at least not have to worry about exposure to dangerous radionuclides and chemicals as well."
A statement released by DTSC approximately 10 hours after the fire began said the agency doesn't believe the fire caused the release of hazardous substances. Mohsen Nazemi, Deputy Director for DTSC's Brownfields & Environmental Restoration Program, participated in a community meeting Sunday night in Woodland Hills, repeating the same unfounded denials and leaving without taking questions.
"We've learned not to trust anything DTSC says, so we're demanding independent testing and air monitoring for radiation and chemicals from SSFL," said Melissa Bumstead, a West HIlls resident whose daughter has twice survived leukemia that she believes was caused by SSFL. Bumstead's Change.org petition urging that SSFL cleanup commitments be upheld has been signed by over 430,000 people. "DTSC has made one broken promise after another, and it wasn't truthful about SSFL's contamination long before the fire started." said Bumstead. "Why would we believe DTSC's statement that the fire caused no additional risk, when they know they're the ones responsible for SSFL still being contaminated in the first place?"
Marie Mason, Simi Valley resident and co-founder of the Rocketdyne Cleanup Coalition, agrees. "We're outraged that after all these years, decades of foot-dragging by DTSC, an agency that is captured by polluters, may have resulted in even more toxic exposures. We've always worried about a fire at SSFL, and now a massive wildfire has started on site itself. SSFL could have and should have been cleaned up a long time ago."
PSR-LA's Duffield said, "While we must await the final investigation of the cause of the fire, the presently available evidence indicates it appears to have begun on the Santa Susana Field Lab, and the failure to clean it up has significantly increased risks to the public nearby."
# # #
Physicians for Social Responsibility-Los Angeles (PSR-LA) is the largest chapter of the national organization Physicians for Social Responsibility and has worked for the full cleanup of SSFL for over 30 years.. PSR-LA advocates for policies and practices that protect public health from nuclear and environmental threats and eliminate health disparities.
Parents vs. SSFL is a grassroots group of concerned parents and residents who demand compliance with cleanup agreements signed in 2010 that require a full cleanup of all radioactive and chemical contamination at the Santa Susana Field Laboratory.
The Rocketdyne Cleanup Coalition, or RCC, is a community-based alliance dedicated to the cleanup of the Santa Susana Field Laboratory (SSFL), commonly known as Rocketdyne.
NOTE: We are demanding independent post-fire testing and air monitoring for radiation and chemicals from SSFL. Given the extent of SSFL's contamination, precautions recommended by fire authorities, such as limiting outdoor activities and using N95 face masks in smokey areas, are especially important.
Sign up for our mailing list and keep up to date with our action alerts and newsletter
Subscribe Get social with PSR-LA! Follow us on twitter, facebook, and youtube
Follow PSR-LA on FacebookFollow PSR-LA on TwitterFollow PSR-LA on YouTube Learn more about the different ways to give
Donate
Contact Us
Physicians for Social
Responsibility-Los Angeles
617 South Olive St, Suite 1100
Los Angeles, CA 90014
213-689-9170
info@psr-la.org
Edison refused to answer any of RT's questions.
On its website, however, the company says they are "being proactive in seeking out options for the relocation of the fuel, including an off-site facility."
But San Onofre is not the only nuclear site causing concern to scientists and environmentalists in California.
The Santa Susana Field Laboratory — a highly classified former nuclear testing site,
which was the location of the worst nuclear meltdown in nuclear history — was scorched in the California wildfires.
During the 1959 disaster,
459 times more radiation was leaked there than during the infamous 1979 Three Mile Island meltdown in Pennsylvania.
Physicians for Social Responsibility say that the toxic materials in the soil and vegetation could become airborne in smoke and ash.
More than half a million people live within 10 miles of the area.
Investigative journalist Paul DeRienzo told RT that given the site's classified status, it's no surprise that Americans don't know much about the place.
"It was a tremendous accident [in 1959] that gave off more radiation than Three Mile Island did — and other than that, very little is known.
It's a highly classified site and whatever we learn about it, we learn in dribs and drabs over a long period of time," DeRienzo said.
Asked whether government assurances that the site is safe could be believed, DeRienzo warned against trusting official guarantees.
"You can't, because it's classified, because a lot of the things that happened at Santa Susana were classified and
therefore there are things that they're just never going to tell you and only accidentally does it come out," he said.
Malibu Fire started at Santa Susana, then intensified by DEW
On 11/14/2018 10:06 AM, Jim wrote:
>
> Fires from DEW – Directed Energy Weapons – more evidence:
>
> Houses burnt to ash, but plants next to them still green, steel beams warped on bridge?
>
> https://raygano.com/breaking-news-woolsey-fire-evidence-of-directed-energy-weapon/
>
> On 11/12/2018 9:11 PM, Jim wrote:
>> The Nuclear Test Facility near Thousand Oaks on Fire => Nuclear Ash up into Air
>> Santa Susana Field Laboratories never cleaned up – toxic nuclear waste now up into Air
>>
>> Woolsey Fire Burns Nuclear Meltdown Site that State Toxics Agency Failed to Clean Up
>> https://www.indybay.org/newsitems/2018/11/11/18819023.php
>> https://www.commondreams.org/newswire/2018/11/12/woolsey-fire-burns-nuclear-meltdown-site-state-toxics-agency-failed-clean
>> https://www.youtube.com/watch?v=V4v5v_PqK8U
>>
>> 50 Kids with Cancer living near the area – now burning up and nuclear ash is going up.
>>
>> Stay indoors and wash off any ash
By Ray Gano
I Have been reviewing a LOT of pictures of the Woolsey fire in Southern California. There are a lot of questionable things I see. Many houses are nothing but literal ash, yet green lawns, trees, plastic garbage cans, other things effected by heat are still there. Just the structures and vehicles have been utterly destroyed.
I have posted a video of a bridge in the Woolsey fire area. NOTE the green trees all around the bridge, water flowing under the bridge yet there is a gigantic hole in the middle of the bridge with burn out tar and the metal beams warped.
If this is fire, then why isn't anything else burnt around it? I believe that this is evidences of a D.E.W.
>> ——– Forwarded Message ——–
>> Subject: Weather Warfare on America? Hurricanes, Fires created by Directed Energy?
>> Date: Mon, 12 Nov 2018 18:20:45 -0800
>>
>>
>> Weather Warfare on America? Hurricanes, Fires created by Directed Energy?
>> California Fires Created to Distract from Voter Fraud???
>> https://www.youtube.com/watch?v=fTvjS1-skFM&feature=youtu.be
>> The "camp fire" in California, like the Sebastopoll and Santa Rosa wildfires that came before it
>> appears to have the hallmarks of something far more sinister than what is being reported by the mainstream media.
>> Q is right, the enemy is at the front door and UN Agenda 21 is but one of his deadly weapons.
>> PG&E caused Fire in N. CA?
>> Rothschild head of PG&E = http://www.pgecorp.com/corp/about-us/corporate-governance/corporation-directors/roger-kimmel.page
>>
>> Directed Energy Creating Fires in California?:
>> https://www.brighteon.com/5815413670001
>> https://www.brighteon.com/5815396659001
>> https://www.brighteon.com/5817677472001
>>
>> ——– Forwarded Message ——–
>> Subject: Weather Warfare on America? Hurricanes, Fires created by Directed Energy?
>> Date: Wed, 13 Dec 2017 08:44:24 -0800
>>
>>
>> Is there Weather Warfare on the American People?
>> Hurricanes, Fires created by Directed Energy?
>> California Gets Cooked – Hurricanes Harvey, etc Directed by HAARP?
>> Fires Created by Microwave Directed Energy Weapon
>>
>> California Firestorms: Geoengineered Catastrophe
>> http://www.geoengineeringwatch.org/california-firestorms-geoengineered-catastrophe/
>> Yet another round of extreme firestorm catastrophes are hitting California.
>> Like the recent Santa Rosa fire disaster, the current wildfires are verifiably connected to conditions created by the ongoing global climate engineering assault.
>> The geoengineering cabal is becoming more desperate by the day as the biosphere and climate unraveling accelerates exponentially.
>> The 6 minute video below reveals aspects of the climate engineering assault and its connection to the California firestorms.
>> The "CO2 Climate Change" BS is being proven wrong, so the desperate Elite have to create the Problems directly.
>> http://www.geoengineeringwatch.org/environmental-collapse-and-the-unravelling-of-civilization/
>>
>> Why were surrounding trees unburned, but houses demolished???
>> Why 16 Fires started Simultaneously in N CA mostly on Marijuana Farm Areas?
>> Why did TREES Burn from Inside Out like with Directed Energy from Lightning-Like Sources?
>> Why did Blue Sparks come from the Sky, with no Lightning?
>> https://www.youtube.com/watch?v=MhHOMU-IhHA
>> 12
>>
>> The United States is deploying a new generation of weapons that discharge light-wave energy, the same spectrum of energy found in your microwave, or in your TV remote control. They're called "directed-energy weapons". Lasers, high-powered microwaves, and particle beams. They claim that this technology is new and that first directed energy weapons are being tested right now, but the fact is that advanced technology is always suppressed from the general public. What is Directed Energy? How do direct energy weapons work? What can these direct energy weapons do?
>>
>> The US Government Has Experimented With Controlling Hurricanes
>> http://www.zerohedge.com/news/2017-10-10/yes-us-government-has-experimented-controlling-hurricaneshttps://steemit.com/geoengineering/@redpilljen2020/origins-of-weather-warfare-and-programs-thereof-hurricane-nate-apocalyptic-california-wildfires-was-microwaved-mirrored-to-9-11
>>
>> Origins of Weather Warfare,Hurricane Nate,
>> Apocalyptic California Wildfires was microwaved mirrored to 9/11 through GeoEngineering
>> https://steemit.com/geoengineering/@redpilljen2020/origins-of-weather-warfare-and-programs-thereof-hurricane-nate-apocalyptic-california-wildfires-was-microwaved-mirrored-to-9-11
>>
>> FIRE storms, BLUE Lights in sky – 60 CA wildfires OUT OF NOWHERE – DIRECTED ENERGY?
>> https://www.youtube.com/watch?v=at_ezaQuN5o
>>
>> Fire Storms [geoengineered] in California
>> BLUE SPARKS in skies-Sudden Winds out of NOWHERE
>> https://www.youtube.com/watch?v=aZ3xKfmuW-M
>>
>>
>> ——– Forwarded Message ——–
>> Subject: North California Fires were Pot Farms lit by Mexican Drug Cartels
>> Date: Mon, 16 Oct 2017 20:03:19 -0700
>> From: Jim
>> North California Fires were Pot Farms lit by Mexican Drug Cartels
>> Destroying CA Competition to Mexican Drug Cartels
>> http://www.thegatewaypundit.com/2017/10/officials-suspect-mexican-cartel-arsonists-behind-historic-fires-california-pot-farms-burn-ground/
>> http://gotnews.com/exclusive-law-enforcement-legal-marijuana-industry-suspect-mexican-drug-cartels-behind-california-wildfires/
>>
>> BURN THE COMPETITION!
>> Pot farming is a big industry in California – And now it's up in smoke!
>>
>> The pot farms are going up in smoke.
>> CNN Money reported:
>> Deadly wildfires in Northern California are burning up marijuana farms in the so-called Emerald Triangle.
>> Blazes have destroyed a number of farms in Mendocino County right before legal recreational sales begin in California.
>>
>> Law enforcement authorities
>> – including senior Department of Homeland Security officials
>> – and key people within the legal marijuana business quickly
>> noticed that the areas hit hardest by the fires are the same places
>> that California's marijuana industry legally grows cannabis, and are now starting to suspect foul play.
>>
>> Stay tuned for more.
>>
>> Our researchers shut down Facebook's biased left-wing trending news team.
>>
>> They uncovered never-before-heard audio tapes of establishment Trump-hater John McCain broadcasting communist propaganda in Vietnam.
>>
>> Their research was successfully used in court against Rolling Stone magazine in a $7.5 million judgment.
>>
>> Best of all, Politico revealed that President Donald J. Trump reads printed-out GotNews articles in the Oval Office.
>>
>> If you'd like to hire our research team, email us at editor@gotnews.com.
>>
>> Like our scoops? You won't hear this stuff from the lying mainstream media. Keep the GotNews mission alive: send tips to editor@gotnews.com or donate at FreeStartr.com/GotNews.
>>
>> ——————————————————————-
>>
>> [The following offer ends November 30, 2018]
>>
>> No More Cell Phone Bills for 9 Years!
>>
>> I've bought 2 Cell Phone SIMS from MCS USA so far – fast quality unlimited Cell Phone service!
>>
>> I will have no more Cell Phone Bills for 9 years, saving $50/month x 2 for 9 years.
>> Unlimited Voice and Text, temporary Throttle on Data after 2 GB, no throttling after about 9 months,
>> so Unlimited Data for 8+ Years.
>>
>> I paid $300 up front for each SIM (for my GSM phones) — no more Bills for 9 years.
>> MCS USA is growing fast.
>> Shortly, the price will change to $600 for 5 years, then probably about $15+/month after full launch.
>> $300 PrePaid for 9 Years calculates out to about $2.78/month.
>> Shortly, $600 for 5 years will calculate to $10/month – only offered for a while, then $15+/mo regular price
>> They have new patented technology and market advantages to beat out all the competitors.
>> (The $300 cuts out the middleman – no monthly commissions to agents/brokers.)
>>
>> It's a initial special to savvy individuals to promote their new service.
>> Jump on it now before it's gone!
>>
>> (Click Here to go straight to MCS USA to Order Yours)
>>
>> I paid an extra $48 to keep my old phone numbers with my new service.
>>
>> Money Back Guarantee if not satisfied within 9 days of Activation and Use.
>>
>> Free Calls to Mexico and 92 other Countries from the US.
>> If you also want to stop paying an average of $50/month for 9 Years of No Phone Bills,
>> Grab It Now!
>>
>> Details and To Order (Click Here to go straight to MCS USA to Order Yours)
>> Or visit my websites for description at http://www.CheapoMobile.com – spanish/espanol http://www.Celular-Barato.com
>> —————————————
>>
>> Also new movie out by D'Souza – Death of a Nation – once a day at select theatres
>> https://tickets.deathofanationmovie.com/
>> ——————————————————————-
>>
>> Are we having fun yet???
>> 1