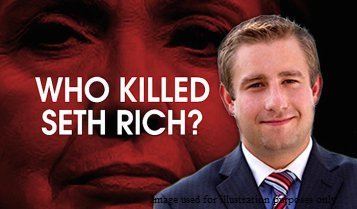 Seth Rich Murder Revealed by Whistleblower Who
Seth Rich Murder Revealed by Whistleblower Who Tells All! Boom!
Monday, September 30, 2019 20:58
By Glenn Canady
Contributor profile
https://beforeitsnews.com/alternative/2019/09/seth-rich-murder-revealed-by-whistleblower-who-tells-all-boom-3701212.html
A whistleblower with deep connections within government dropped bomb after bomb in this broadcast from BeachBroadcast.com The first video is the entire interview which is a must listen while the second video is a summary of the hot details. Get this everywhere patriots! It's HUGE! Alex Jones is refusing to report it because it's not HIS story of course as usual! Put heat on Jones at showtips@infowars.com and tell him no more product sales if he censors this story! He should bring on the people who did this interview and John but I'll bet any patriot $100 he won't! This story is like something out of a movie!
Summary Video

Here's some of the stuff covered.
In one part the whistleblower named "John" talks about how the FBI runs the terror attacks on America by pushing people they have infiltrated to do them! Just like the first WTC bombing! And when these attacks are planned the FBI asks, "What's the spread?" which means how many civilians can we kill. They want maximum body counts! If there won't be enough body bags they aren't interested! This is the sick evil government we have now! And if any of you don't support Trump and still vote democrat after learning all this stuff in this interview you're evil too because you support killing God's babies!
Rod Rosenstein was a cleaner who was busy sweeping up all the DOJ dirty secrets so Trump couldn't find out about them and he was involved of course with framing Trump for the Russia hoax. Rod Rosenstein reaches out to the black hats, DEA, DOJ, ATF, Secret Service and a hit man for help! Rosenstein creates a thumb drive that will be switched with the real Seth Rich thumb drive when they take him out so when it's found on Seth Rich's body they can use this bogus information they put on there to frame Trump! Comey, McCabe and Rosenstein were all involved in this effort to frame Trump using this bogus thumb drive put on Seth Rich after they killed him and took his thumb drive! We're three years in and not ONE person has every gotten in trouble at all for anything! It's outrageous!
The DEA reaches out to the hit man who reaches out to the MS-13 gang who get two guys to do the dead. These two MS-13 members were originally supposed to badly beat up Seth Rich but he fought back and they had to shoot him. They did take the thumb drive and gave it to a guy named "Rosie" at the DEA. The MS-13 members originally drove to Seth Rich's house from South Carolina on stolen tags and when "Rosie" at the DEA found out, he was beyond livid!
Seth Rich was still alive when he got to the hospital. There were two people that arrived at the hospital to make sure Seth Rich didn't talk – Donna Brazille and DC Mayor Muriel Bowser! Two weeks after Seth Rich was killed, Donna Brazille becomes the DNC chair!
Meanwhile, "Rosie" from the DEA is so mad at the MS-13 assassins because they drove to DC with a stolen tag that drives to South Carolina and kills them himself! (Note by Glenn: I absolutely remember the news story about the MS-13 gang members killed in South Carolina) I had a feeling this was connected because it happened so fast after the Seth Rich murder. I knew it was probably somebody tying up loose ends.)
On his way to South Carolina, "Rosie" switches out of his government car and into his wife's white car. His wife had an Easy Pass in the car and there was a photo taken of the car as it passed through the toll booth. This whistleblower knows where this photo exists but nobody in government is helping him! He's been to see Nunes and nothing has happened yet because it's been stopped by other people at every turn!
This whistleblower "John" went and approached a group of people within government to give them all this information! But surprise they were cockroaches too and they did nothing! They held on to the information for over two years! This group tried to take "John's" name completely out of the information packet and put their names on it. They wanted to take credit for it all! Then they started offering $100,000 bribes to John to give them more information! John didn't want anything for it!
Devin Nunes offered John secret service protection but this "group" stopped it! The then got the secret service protection authorized again for John but Rod Rosenstein shut it down when he was still there! John knows where this Seth Rich drive is! He knows everything! He's a hero! John needs protection so I'm asking all patriots to send this story viral and get everybody you know to tweet Trump @potus and @realdonaldtrump! Go for it BeforeitsNews patriots! Let's see what you can do with this story! May the light of God light up this story over the next 24 hours! I'm also asking all patriots to pray right now that this story reaches Trump!