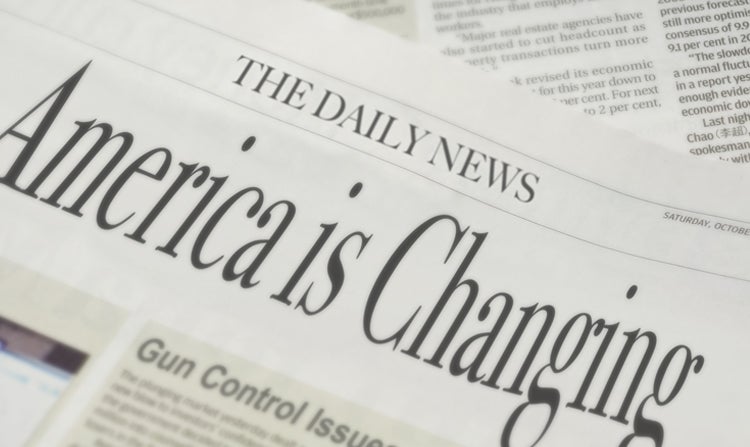 America Is Changing
Rick Sapp – 09/27/2019
https://www.usconcealedcarry.com/blog/america-is-changing/
In 13 months, we will defeat and send into well-deserved obscurity most of the violently anti-gun, anti-American candidates who are monopolizing the airways with whining. And good riddance.
But all of the "issues," real or invented, that O'Rourke, Booker, Klobuchar, Castro, Harris and the rest are blathering about today will remain with us for many years. The vehemence of their attacks on America has, I believe, begun to change and divide this democratic republic permanently.
* How do we stop Planned Parenthood and find good homes for the 330,000 babies the organization murders every year?
* How do we end the "my-way-or-the-highway" attitude that has brought our government to a halt?
* How do we convince millennials that without viable borders, we will have chaos?
* How do we remind everyone who is not already a millionaire that capitalism offers a chance — the only chance in the world — to join that exclusive club?
* How, with the study of history dropped in favor of STEM studies, do we show that differences between rich and poor are part of every civilized society … and that this is a good thing?
* How do we address the basic issues that cause individuals to pick up a weapon and indiscriminately harm others?
The Use of Weapons in Society
We in the concealed carry community may be interested in all of the above issues, but we have a special concern about the use of weapons in our society.
Two banned novels with colorfully illustrated book covers: The Man Who Would be King by Rudyard Kipling and Robinson Crusoe by Daniel Defoe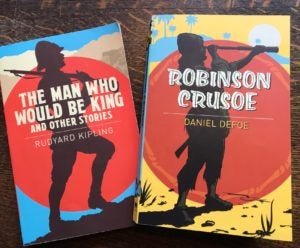 Because they present history at variance with the lens of political correctness, many classic books and writers are now banned from school and public libraries. (Rick Sapp photo)
Whether we find ways to reduce violence in America or not, whether there is an "epidemic of gun violence" as the buffoon candidates screech or not, if the Socialist left wins elections, we will find our firearms options severely limited. Should the screechers come to power and dominate politics in America (as they do the mass media now), the Second Amendment will not stand.
The fact that these "leaders" do not understand the difference between a semi-automatic and a tank or between a hair clip and a semi-auto magazine won't stop them from implementing anti-gun agendas. Neither will their anti-gun agendas, if fulfilled, put a dent in violence in America.
What's to Be Done?
We must address two factors to make a dent in America's "epidemic of gun violence." First, we must strengthen our mental health community and insurance support for counseling and intervention. Second, inner-city communities with high rates of gangs and violence must recognize that violence is a cultural issue and can only be solved within the culture. The imposition of programs, outreach and activism of all sorts will fail unless communities accept the responsibility to teach their children that the "culture of violence" is unacceptable.
The concealed carry community is part of the great silent majority who live in "fly-over land" between the coasts. But we can ill afford to be silent as the Socialist left reshapes our country. In the end, the attack on guns, religious faith and fundamental American principles is an attack on us. It's personal. America may very well be changing, but this is a culture war. And we cannot afford to lose.
About Rick Sapp
Richard "Rick" Sapp was a U.S. Army infantry platoon leader until recruited to the 66th Military Intelligence Group. There, he worked with the West German KRIPO (Criminal Police) at Czechoslovakian border stations during the Soviet invasion of 1968.
Returning to the U.S., he earned a Ph.D. in social anthropology after studies at the U.S. Air Force Academy, Catholic University of America and the University of Florida, following which he moved to Paris, France, for a year.
After four years with the U.S. Fish & Wildlife Service, he turned to journalism and freelance writing, specializing in outdoor features. His journalism experience includes newspapers and magazines. He has authored more than 50 books for a variety of international publishers.
Rick is married and lives in Florida.
New This Week
Amber Guyger: Right Intentions, Wrong Door?
Amber Guyger: Right Intentions, Wrong Door?
John Caile — September 27, 2019
A Motel Break-In: Should I Shoot?
A Motel Break-In: Should I Shoot?
Kevin Michalowski — September 26, 2019
Crimson Trace CMR-206 Rail Master: Universal Green Laser Sight
Crimson Trace CMR-206 Rail Master: Universal Green Laser Sight
Scott W. Wagner — September 26, 2019
USCCA Carry Confidence
USCCA
Welcome to Disqus! Discover more great discussions just like this one. We're a lot more than comments.Get Started
Dismiss ×
USCCA Comment Policy
We welcome relevant and respectful comments. Vulgarity, Profanity, Name Calling etc. will be deleted.
8 comments
USCCA
Janet McDonald
Avatar
If there is enough tinkering with the voting booths, Trump may not be re-elected. That is what fears me. Last elections showed that it is not that hard for "them" to screw with the voting machines. "They" did not think that Trump would get so many votes, and "they" were very ill prepared. This time "they" know that Trump is going to get the votes, so if they cannot destroy him before elections, I feel "they" will see he don't get elected, at any cost.
Avatar
Extremely Handsome Herb • 4 hours ago
Does no $hyt ring a bell in regard to the title of the article? And yes, people are very stupid, in fact, the more stupid you are the more likely you are to get into politics, Mr. Trump excepted.
For all of the do gooders we have in this Country facts make no difference, crime is down with the exception of about 4 Cities, and no they will never understand, because they do not want to understand. If they every bother to learn what they are talking about then they will think like us, and us is who they are against, so why would they ever want to be like us?
You have to keep in mind that the best job these people will ever have is to be elected to some office. And the only better job is to run for a higher office, these people will do anything to keep their job and will set their own mother on fire for a better job. There is no lie too great, no trick too dirty, whatever they can get away with is just fine. Every other person on the planet is expendable as long as they get elected.
Why would you spend $1 Billion to get a job which pays less than $450.000.00, it does not make any sense, but take a look at Uncle Joe, his whole family has been enriched by his being elected to every office which he has ever held and he cannot even find his way home all by himself.
We had better hope things change, but I mean for the American People to actually wake up to the facts which are very simple to find, you only have to be willing to learn and that my friends is why change is so very hard!
Semper Fie
•
Avatar
Steve H. • 6 hours ago • edited
They won't just stop at the 2nd amendment, that is just the beginning. When that falls we will be unarmed, then they will take the 1st then the 4th………. Not on my watch!
•
Avatar
Frederick Davison • 7 hours ago
It isn't the guns that they are after. It's control! Plain and simple they want total control over the people of this great nation.
Avatar
John Kaline Frederick Davison • 5 hours ago
I've said it several times before, but those FEMA camps were put in place for some particular purpose, and it's never been satisfactorily explained or proved to the general public who may soon become those camp occupants. If you just look around, I believe the state and federal governments already have all power they believe they need to exercise martial law and simply collect all the firearms the FFLs were required to keep records on about who and where they are presently located. Label me paranoid, but I still believe it.s better to be prepared than not.
•
Avatar
Juke 1751 John Kaline • 4 hours ago
NM has a large FEMA camp under the quise of holding illegal aliens.
•
Avatar
Frederick Davison John Kaline • 5 hours ago
That's why it's nice that I had a boating accident and lost ALL of my firearms
Avatar
GuitarsNguns • 8 hours ago
Just two years ago these same Dems were saying "nobody wants to take your guns we just want common sense gun laws". Today they want to take our guns. We all know that this was their plan all along but now they are not hiding it and much to the chagrin of the establishment Democrats, they are saying it. We need to teach these little socialists a lesson by soundly defeating their sorry butts in the upcoming. I don't worry much about Mr Trump getting re-elected but we all need to work to take back the House and increase our lead in the Senate where there are a half dozen RINOs we just can't trust. If we can do this we will set the progressive movement back 20 years.
−
Avatar
Clark Kent • 8 hours ago
HOORAY for the 'my way or the highway' attitude that has brought our government to a halt! 'Be thankful we're not getting all the government we're paying for' – Will Rogers.