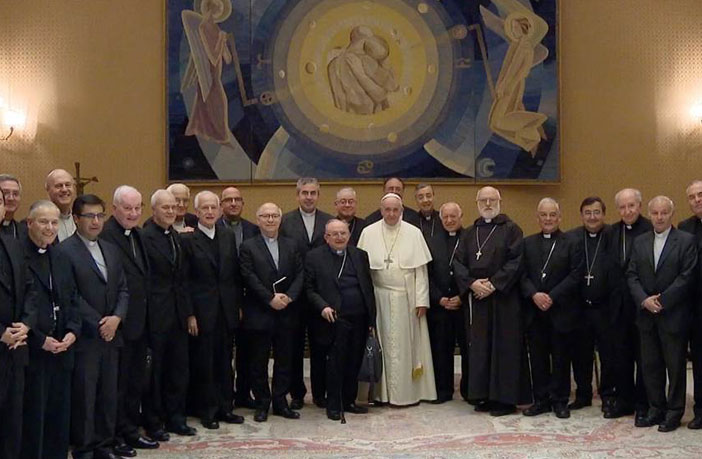 More Bishops From The Catholic Church Caught Sexual Abusing Young Boys
By Editor June 7, 2018
http://www.theeventchronicle.com/cabal-exposed/more-bishops-from-the-catholic-church-caught-sexual-abusing-young-boys/
By Richard Enos
The Facts:Sexual abuse of young children have long been associated with the Catholic Church.
Reflect On:Who we are worshiping, and the institutions we so easily and our power over to. Are these who we consider our spiritual leaders?
Last Thursday, at the end of an emergency summit in Rome with the Pope, 34 Chilean bishops offered their resignation in the wake of revelations of sexual abuse of young boys and their complicity in covering up the crimes. These 34 represent every bishop in Chile, 31 active and 3 retired.
Damage control at its finest. But is it too late?
The Timeline
The timeline of this particular story, now part of a voluminous list of crimes of complicity within the Roman Catholic Church, runs as follows:
2011: Charismatic Chilean priest Rev. Fernando Karadima is removed from ministry and sentenced by the Vatican to a lifetime of penance and prayer based on the testimony of his victims, who said they were all molested by him in the swank parish he headed in the El Bosque area of Santiago. A Chilean judge also found the victims to be credible, saying that while she had to drop criminal charges against Karadima because too much time had passed, proof of his crimes wasn't lacking.
2015: The Pope appoints Juan Barros as bishop presiding over Osorno, a region of Chile, despite victims' testimony before Chilean prosecutors that Barros, one of Karadima's proteges, witnessed the abuse and did nothing to stop it. The appointment outraged Chileans and badly divided the Osorno diocese, where hundreds of lay Catholics and many priests have refused to accept Barros.
Jan. 18, 2018: During a visit to Chile and Peru from Jan. 15-21, the Pope was asked about the Barros appointment and responded, "The day they bring me proof against Bishop Barros, I'll speak. There is not one shred of proof against him. It's all calumny. Is that clear?"
Jan, 21, 2018: During an airborne press conference on the way home from the trip, Pope Francis apologized for insisting that victims of pedophile priests show "proof" to be believed, saying he realized it was a "slap in the face" to victims that he never intended. But he doubled down on defending Barros, and he repeated that anyone who makes such accusations without providing evidence is guilty of slander.
February 1, 2018: The Pope sends the Catholic Church's top abuse prosecutor, Archbishop Charles Scicluna and his aide, Monsignor Jordi Bertomeu, to Chile to investigate the matter. They interview 64 people which forms the basis for a 2,300 page Vatican report exploring matters of child sexual abuse and the cover-up of such crimes by Church officials in Chile.
April 11, 2018: The Pope invites all Chilean bishops to Rome for a crisis meeting to discuss the findings of the report.
May 18, 2018: In the wake of revelations from the meeting, all 34 Chilean bishops offer their resignation. Footnotes the pope took from the report indicate that the pope accused the bishops of destroying evidence of sex crimes, pressuring investigators to minimize abuse accusations and showing 'grave negligence' in protecting children from pedophile priests.
Pope Francis' About-Face
In his document, Pope Francis said all Chilean bishops bore blame, 'and me first of all.' In this admission, he accedes to the criticisms he received for his transfer of Juan Barros to Osorno, and his support for Barros over the past few years in the face of righteous opposition.
Further, he appears to be taking a grander view of these problems than had been done by the church in the past. An article in the Daily Mail summarizes it thusly:
Francis said he was 'perplexed and ashamed' by the report's evidence that there were 'pressures exercised' on church officials tasked with investigating sex crimes 'including the destruction of compromising documents on the part of those in charge of ecclesiastic archives.'
He said such behavior showed 'an absolute lack of respect for the canonical process and worse, reprehensible practices that must be avoided in the future.'
He said the problem wasn't limited to a group of people, but can be traced to the training Chilean priests receive in seminary, blaming the 'profound fracture' within the church on the seminaries themselves.
The Vatican investigation, he said, contained 'grave accusations against some bishops and superiors who sent to these educational institutions priests suspected of active homosexuality.'
'The problems inside the church community can't be solved just by dealing with individual cases and reducing them to the removal of people, though this – and I say so clearly – has to be done,' Francis wrote.
'But it's not enough, we have to go beyond that. It would be irresponsible on our part to not look deeply into the roots and the structures that allowed these concrete events to occur and perpetuate.'
The harsh assessment of the quality of seminaries suggests that a possible next step might be a full-on Vatican investigation of Chilean schools of priestly training.
What's Really Going On Here?
Throughout most of their history, the Roman Catholic Church was so powerful that crimes of pedophilia could be completely covered up and pushed beyond public view. In more recent times, revelations about individual priests somehow managed to emerge, often decades after their crimes had occurred. It was long maintained that these crimes were purely the work of a few 'bad apple' priests, whose acts of cruelty and depravity stemmed from such excuses as 'personal weakness', 'poor judgment', even 'loneliness'.
But we have come to find out that this is simply not an accurate characterization. It has been shown, to an extent that cannot be contested, that the sexual deviance and cruelty of individual priests has inevitably been enabled by a grotesque 'support system.' It's a network of church officials that surround and protect these criminal priests through their silence, lies, and complicity, and by simply moving such criminals from areas where the outrage of the community has gotten too heated, to other areas where they can start fresh with the physical and psychological torture of a new group of young and vulnerable children.
As abhorrent and vile as crimes of pedophelia are, one could almost argue that the willful enabling of such acts on the part of officials in the church hierarchy is equally or even more abhorrent. In the face of having been accused of their complicity in such horrors, these are the types of statements we hear coming from the complicit bishops who attended the crisis meeting with Pope Francis:
"We were not prepared for something such as abuse, and this was a shock for me. We were not prepared and were not able to understand what happened to the victims, but now we know."–Bishop Ramos
" has given us a clear example and we must do likewise. He knows how to say 'I have made a mistake,' and to ask pardon for that."–Bishop Gonzalez
Hypocrisy Of The Highest Order
I pray for the day when the majority of people on the planet see these statements and the faux-humility they are couched in for what they are: hypocrisy of the highest order. These statements and others that were made are the pleas of cowardly, deceitful people doing anything to save their skin and their positions of privilege. The culture of the Catholic Church is like no other in the way it has accommodated the most profane of human acts and systematically protected the perpetrators.
Now, finally, revelations of this nature have become so widespread that Pope Francis has had to indict the entire system of seminaries in Chile, 'promising' fundamental change there. The optics behind it are to dissociate what has happened in Chile from the core of the Catholic church, the Vatican, like sawing a dead branch off of a tree. The question is, does this public condemnation of the Chilean bishops represent a real effort to improve the Catholic Church, or is it just damage control on the part of Pope Francis to forestall the uncovering of deeper and more pervasive revelations about the Catholic Church?
Who Is Pope Francis?
In all honesty, I am not sure who Pope Francis is. In some circles, he is seen as a person who embodies the sinister, duplicitous capabilities of his institution, and has risen to the Papacy as a result of his perceived capacity to radiate a saintly persona to maintain the Church's power through these difficult times. Others say that he is a fundamentally moral person who has been brought in by more benevolent forces to slowly and safely effect a controlled demolition of this most corrupt institution.
One thing I do believe is that Francis knew about Barros, about the veracity of victims' claims against him, and went ahead and forcefully defended him anyway, using that tried and true approach of righteously claiming that no proof had come forth. But that strategy didn't work this time, apparently. His 'emergency summit' in Rome was a public relations side show meant to morally elevate the Vatican high above the crimes revealed in Chile. Certainly some followers will believe this narrative, but the objective observer will note that the Catholic Church's behavior in Chile is the rule, not the exception, of its base culture. Church sexual malfeasance has been widely documented, with one report citing over 10,000 reported cases in the United States alone, more than 4,000 cases in Australia, and several hundred cases in Canada, Germany, Belgium, and Ireland.
Making Sense Of It All
And if we go along with the notion that the vast percentage of such crimes go unreported, it makes the perpetration of these crimes fully systemic, and a disturbing picture of the Catholic Church from top to bottom comes into view. In fact, it would be naive not to draw the following conclusions:
Pedophelia is not actually an unwanted problem within the Catholic Church, but rather a core activity that is promoted by the Holy See
The capacity to move up the ranks in the Catholic Church is predicated largely on a priest's engagement in such activities or, at minimum, their willingness to keep silent or enable such activities
The Catholic Church is 'Christianity' in name only, and those at the highest levels do not follow the teachings of Jesus Christ at all, but rather the practices of an occult system like Satanism where pedophelia is promoted
Naturally, I believe many Catholic priests–perhaps the vast majority–are doing their best to practice the teachings of Jesus Christ as they understand them, and impart those teachings to their followers. However, the fact that there has not been a major revolt on the part of Catholic priests against the rampant pedophilia within their ranks only reinforces the notion that we are dealing with a systemic problem. The fact that the bishops of an entire nation were all found to be complicit in enabling pedophelia under their purview reinforces this claim.
All that is left now is for us to unveil the highly guarded secret motives of the Vatican itself. A cogent explanation for the preponderance of pedophelia within the 'sacred' walls of churches and parishes would surely be revealed. And if this were to happen, whether through the efforts of Pope Francis or despite them, the dismantling of arguably the most powerful control structure on our planet may be upon us.
This article (More Bishops From The Catholic Church Caught Sexual Abusing Young Boys) was originally published on Collective Evolution and syndicated by The Event Chronicle.