Ever since Associated Press sent me two letters claiming that pictures on my website belonged to them, and told me to pay $1,100.00 for infringing on the photo rights, I have been depressed. See below.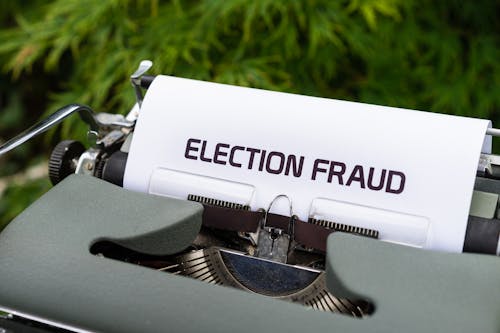 Dominion Servers in Germany seized to get Data of Vote Switches from Trump to Biden – US MIlitary with Germany's cooperation
https://www.thegatewaypundit.com/2020/11/us-raid-software-company-scytl-seize-servers-germany-intel-source-says-yes-happened/
Earlier today Rep. Louie Gohmert told Chris Galcedo on Newsmax that people on the ground in Germany report that Scytl, which hosted  elections data Improperly through Spain, was raided by a large US ARMY force and their servers were seized in Frankfurt.
https://youtu.be/NYnf1r8mXXs
The US government, once they determined that this Dominion server was involved in switching votes, then the intelligence community began a search for the server and discovered that the server was in Germany.
In order to get access to that server and have it available for use in a legal manner they had to have the State Department work in tandem with the Department of Justice.
They had to request that the government of Germany cooperate in allowing this seizure of this server.
The appropriate documents required to affect that kind of seizure were put in place, signed off on, and it appears there was also US military support in this operation.
The US military was not in the lead. But this helps explain why Esper was fired and Miller and Kash Patel were put in place — so that the military would not interfere with the operation in any way.
By getting ahold of the server they now are going to have the direct evidence of when they were instructed to stop counting.
They will also discover who gave the direction to stop counting and who initiated the algorithm that started switching votes.
The CIA was completely excluded from this operation.
Andrea Widburg at American Thinker earlier reported that Scytl is a Barcelona-based company that provides electronic voting systems worldwide, many of which have proven vulnerable to electronic manipulation. 
Scytl has (or had) Soros and Democrat party connections.  Microsoft co-founder Paul Allen's Vulcan Capital has invested $40 million in Scytl.
Tonight we learned from our source that Bill Gates also owns stock in Scytl. —————————————————————– TRUMP TWEETS: REPORT: DOMINION DELETED 2.7 MILLION TRUMP VOTES NATIONWIDE.
DATA ANALYSIS FINDS 221,000 PENNSYLVANIA VOTES SWITCHED FROM PRESIDENT TRUMP TO BIDEN https://www.thegatewaypundit.com/2020/11/boom-trump-tweets-report-dominion-deleted-2-7-million-trump-votes-nationwide-data-analysis-finds-221000-pennsylvania-votes-switched-president-trump-biden/
——– Forwarded Message ——–
| | |
| --- | --- |
| Subject: | Michigan Voters – 9,500 Dead + 2,000 never existed? + current status |
| Date: | Tue, 10 Nov 2020 18:41:45 -0800 |
| From: | Jim <jim@americanloanaudits.com> |
Michigan Voters – 9,500 Dead + 2,000 never existed?
https://www.thegatewaypundit.com/2020/11/huge-analysis-finds-10000-dead-people-returned-mail-ballots-michigan/
"About 9,500 voters confirmed dead through the Social Security Death Index (SSDI) are
marked in the state's mail voting database as having returned ballots. Another nearly 2,000
are 100 years old or more and aren't listed as known living centenarians,"
some of the people may not be dead — instead, they may have been made up entirely.
"…possible that some of them aren't even real people," "If someone is 110 or some ridiculous age, we should have their death record but do not."
There are only a few Americans over 110 years old who live in Michigan, according to records. – not 2,000


———————————————————————————-
"We've Identified 450,000 Ballots that Miraculously ONLY have a Vote for Joe Biden" – Sidney Powell Drops a BOMB
https://www.thegatewaypundit.com/2020/11/identified-450000-ballots-miraculously-vote-joe-biden-sidney-powell-drops-bomb-sunday-morning-futures-video/
—————————————————————————————
Guess who owns the digital 'Switch-the-Trump-votesto-Biden" voting machines?
https://barenakedislam.com/2020/11/09/guess-who-owns-the-digital-switch-the-trump-votes-to-biden-voting-machines/
Lord Mark Malloch Brown, a George Soros lieutenant, whose company Smartmatic, is intimately tied to Dominion Voting
Systems who flipped votes from Trump to Biden. His machine was used in all the swing states. This would explain the MICHIGAN
200,000 vote sudden dump of Biden ballots, while WISCONSIN got a 100,000 Biden vote dump late night delivery.
——————————————————————————————-
Facebook's Zuckerberg paid $15million to subvert 3 Georgia Counties' elections
https://www.breitbart.com/politics/2020/11/09/most-of-bidens-221000-vote-margin-gain-in-georgia-in-3-counties-that-received-15-million-from-zuckerberg-funded-safe-elections-project/
———————————————————————————
Fake News Media can't confirm a "President Elect"
only the electoral college with the decisions of each state legislature can.
232 Electoral votes seem "Solid" for Trump, 226 seem "Solid" for Biden
https://www.thegatewaypundit.com/2020/11/current-actual-election-result-update-president-trump-leading-electoral-college-paths-victory-biden/
The other states are in limbo.
Arizona is just slow in counting, but looks like a win for Trump after the last 56,000 votes are counted – he's getting 66% of most new votes
Massive voter fraud appears to have occurred in WI, MI, PA, GA and NV – and maybe AZ.
The Fake News Media refused to admit that Trump took Alaska (66.2% Trump) and North Carolina (50.1% to 48.7%).
The Fake News including RealClearPolitics.com all called Arizona for Biden, but RealClearPolitics finally withdrew that call and never gave PA to Biden.
https://www.thegatewaypundit.com/2020/11/breaking-real-clear-politics-pulls-pennsylvania-call-biden-withdraws-electoral-votes/
https://www.realclearpolitics.com/elections/live_results/2020/president/
Based on actual results and accounting for states currently not called, still counting, recounting, under investigation or audit,
or states with election issues now in the courts, President Trump is winning the 2020 Presidential Election.


=====================================
Ten Attorneys General Join Supreme Court Case Against Pennsylvania Mail-In Ballot Deadline
https://www.zerohedge.com/political/ten-attorneys-general-join-supreme-court-case-against-pennsylvania-mail-ballot-deadline
ten Republican Attorneys General have filed an 'amicus brief' with the US Supreme Court in a case challenging the legality of late mail-in ballots in Pennsylvania.
AGs from Missouri, Alabama, Arkansas, Florida, Kentucky, Louisiana, Mississippi, South Carolina, South Dakota, and Texas filed in Republican Party of Pennsylvania v. Boockvar,
which challenges the Pennsylvania Supreme Court's late October decision to allow ballots arriving after Election Day to be counted – despite, as The Federalist notes – state laws
mandating otherwise.
"Free and fair elections are the cornerstone of our Republic and it's one of the reasons why the United States is the envy of the world," said Missouri AG Eric Schmitt in a
Monday press conference. "We have to ensure that every legal vote cast is counted in that every illegal vote cast is not counted."
Associate Justice Samuel Alito Jr. already granted the Republican Party of Pennsylvania's request and temporarily ordered all counties segregate mail-in ballots
that arrived after 8 p.m. on Election Day from others, but the lawsuit is still pending petition in the highest court.

===============================================================================
Continued from above.
I was already depressed when the election was called in Biden's favor the night of the vote, but the very next day, I received the letters from AP.
Hell, I don't even remember where I got one of the photos, but I usually give credits whenever I use a photo that does not come from the free photo places. Of course, I have been taking pictures since I was like 10 years old when I got my very own first camera. I have two Nikon professional cameras, yes true 35MM single lens reflex cameras, fully manual.
So to accuse me of stealing photos for my website, I just really don't think so. I created the site they are claiming their photos appeared on, back in 2013. It was probably earlier though, because I had to recreate the site once, that was prior to 2013.
Pleased visit: https://www.onlyinyourstate.com/georgia/rare-photos-stone-mountain-monument-construction-ga/
Nice historical information on the carving.
Crazy thing, AP saw that I have a Stone Mountain, GA address when they mailed me the accusation letters, and one of the pictures I am accused of stealing, was of the mountain. I have lived in Georgia for 60 years, and James and I currently live less than one mile from the mountain.
I took my first picture of the mountain, not long after my Daddy died, back in 1966, when I was six years old. I was there with our next door neighbor. I could explain the day to you; but that was the first time I photographed the mountain.
Lets just fuck with the little people that have next to no money at all. I did delete the one picture from my site, because, for the life of me, I could not remember where the hell I got that one from.
But don't come accusing me of stealing pictures of a mountain that has had photos and postcards floating around the world for the past almost 100 years.
To allege that I stole a picture of the Mountain that I have lived next to for the past 25 years, and have been taking pictures of since I was 6 years old… I just don't think so.