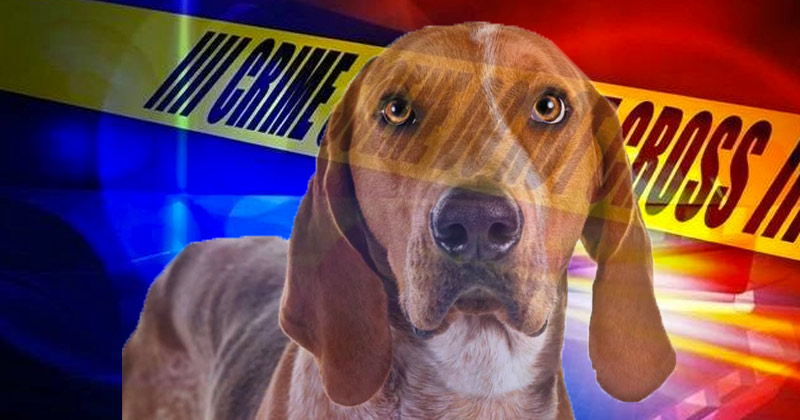 Texas Sheriff: Illegal Alien Choked Two Search-and-Rescue Dogs to Death
Police say suspect used dogs own collars to cut off air supply
Infowars.com – September 3, 2018
https://www.infowars.com/texas-sheriff-illegal-alien-choked-two-search-and-rescue-dogs-to-death/
Texas Sheriff: Illegal Alien Choked Two Search-and-Rescue Dogs to Death
Two search-and-rescue dogs were choked to death by an illegal alien Saturday during a police chase, a Texas sheriff has said.
In a statement issued Sunday, Aransas County Sheriff Bill Mills said the two dogs, trained to track missing persons with dementia and Alzheimer's, were "destroyed" during the altercation.
"Sept. 1, 2018 in an area just north of Holiday Beach in Aransas County, two highly valued canines were destroyed by individuals believed to be in this country illegally," Mills said on Facebook.
The incident began on Saturday morning when a truck fled the scene during an attempted traffic stop. After a short vehicle chase, roughly 14 to 16 people were seen fleeing from the vehicle.
"While most 'Bail Outs' end with detentions after exhaustive searches they do not show this level of aggressive behavior," Mills added. "Serving as a reminder to officers yesterday afternoon that while we are still dealing with individuals who may have questionable immigration status these encounters can turn just as violent as any domestic dispute we respond to."
The highly-trained canines, loaned to the department by a kennel in a nearby county, had not been taught to engage in aggressive behavior like normal police dogs.
"Rufugio [sic] County offered a canine unit to assist; they brought tracking dogs that were non aggressive, non-bite trained. We have used canines like these to ensure safety of individuals in events like this," the department said. "We have other well-trained canine units that can defend themselves, but we consciously avoid deploying them off leash in environments like this."
Police say after being located by the dogs, eight-year-old Grunt and three-year-old Nell, the suspect used their collars to choke off their air supply.
Mills says he now fears the number of Dementia and Alzheimer's patients who may be negatively affected by the loss of the two dogs.
"And while every effort is being taken to insure everyone's safety, we are reminded that not everyone we encounter shows the same level of respect for the rule of law and or life even for highly trained animals," Mills added. "It was an afternoon that left me wondering how many lives of Dementia and Alzheimer's individuals in the future may have been put at risk with the deaths of these two Canines."
Mills says the six people arrested on scene, turned over to U.S. Customs and Border Protection, were originated from Guatemala, Honduras and Mexico.
As many as 10 others who fled the scene still remain at large.
"They're behind bars.. right now, they're not going to hurt anyone else," kennel owner Joe Braman said. "That's our main concern — I don't want some innocent bystander to have been assaulted by these people because it's apparent they have no respect for anyone, not even an animal."