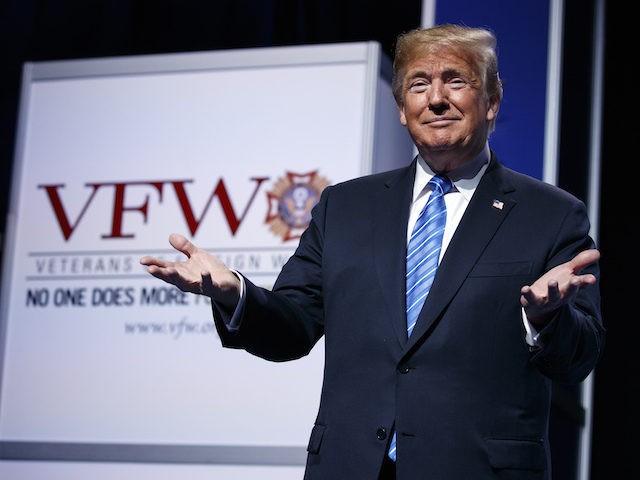 President Donald Trump urged supporters not to lose faith with his administration on tariffs on Tuesday, criticizing the news coverage of his efforts to fight for fair trade policies.
"Folks, stick with us, stick with us," Trump said during a speech during the VFW convention in St. Louis, Missouri.
Trump appeared frustrated by the news coverage of his attempts to get a better deal with foreign countries on trade, blaming it on lobbyists.
"Remember that they have the biggest, best, strongest lobbyists and they're doing a number," Trump said. "Just stick with us, don't believe the crap you see from these people, the fake news."
The audience cheered Trump and booed the news media in response.
Trump blasted an NBC news report that featured critics of his trade fight.
"That piece was done by the lobbyists and by the people that they hire, it was a total set up," Trump said, clarifying that CNN was still "the worst."
He argued the current economic climate was a good time to enact tariffs.
"This country is doing better than it's ever done before economically," Trump said. "This is the time to take off the rip off of tariffs, we have to do it."