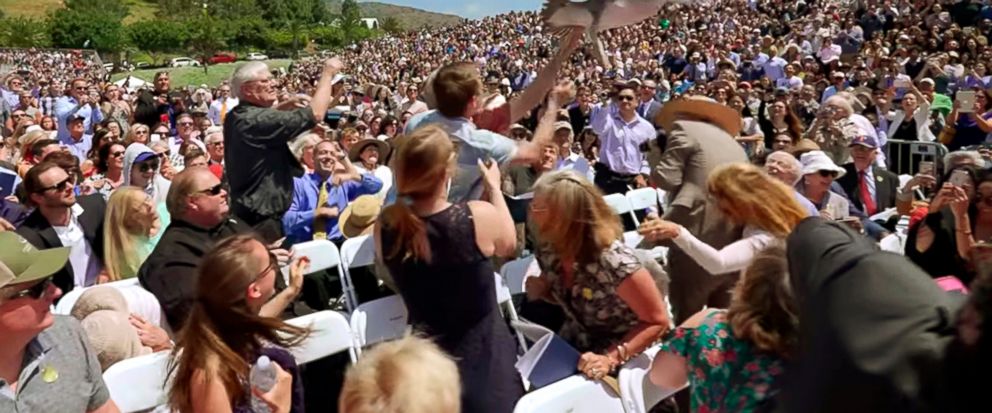 FILE–In this April 28, 2018, file photo, made from video provided by Pepperdine University, shows one of a pair of pelicans crashing a graduation ceremony at Pepperdine University in Malibu, Calif. The wildlife organization, International Bird RescuThe Associated Press
Sick pelicans showing up along Southern California coast
By The Associated Press
LOS ANGELES — May 10, 2018, 5:00 PM ET
FILE–In this April 28, 2018, file photo, made from video provided by Pepperdine University, shows one of a pair of pelicans crashing a graduation ceremony at Pepperdine University in Malibu, Calif. The wildlife organization, International Bird Rescue, said Thursday, May 10, 2018, that there's been a surge in the number of sick and dying brown pelicans along the Southern California coast in the past week. (Grant Dillion/Pepperdine University via AP, file)
more +
A wildlife organization says there's been a surge in the number of sick and dying brown pelicans along the Southern California coast in the past week.
International Bird Rescue said Thursday that more than 25 pelicans have been brought to its wildlife center in the San Pedro district of Los Angeles.
The big birds are showing signs of emaciation, hypothermia and anemia. The organization did not cite a cause.
Wildlife center manager Kylie Clatterbuck says it's normal to receive recently fledged baby pelicans this time of year but the current wave includes many second-year birds.
The organization says there are many cases of pelicans landing on city streets, residential yards and airport runways.
A well-publicized incident occurred April 28 when two pelicans landed at Pepperdine University's graduation ceremony in Malibu.
———